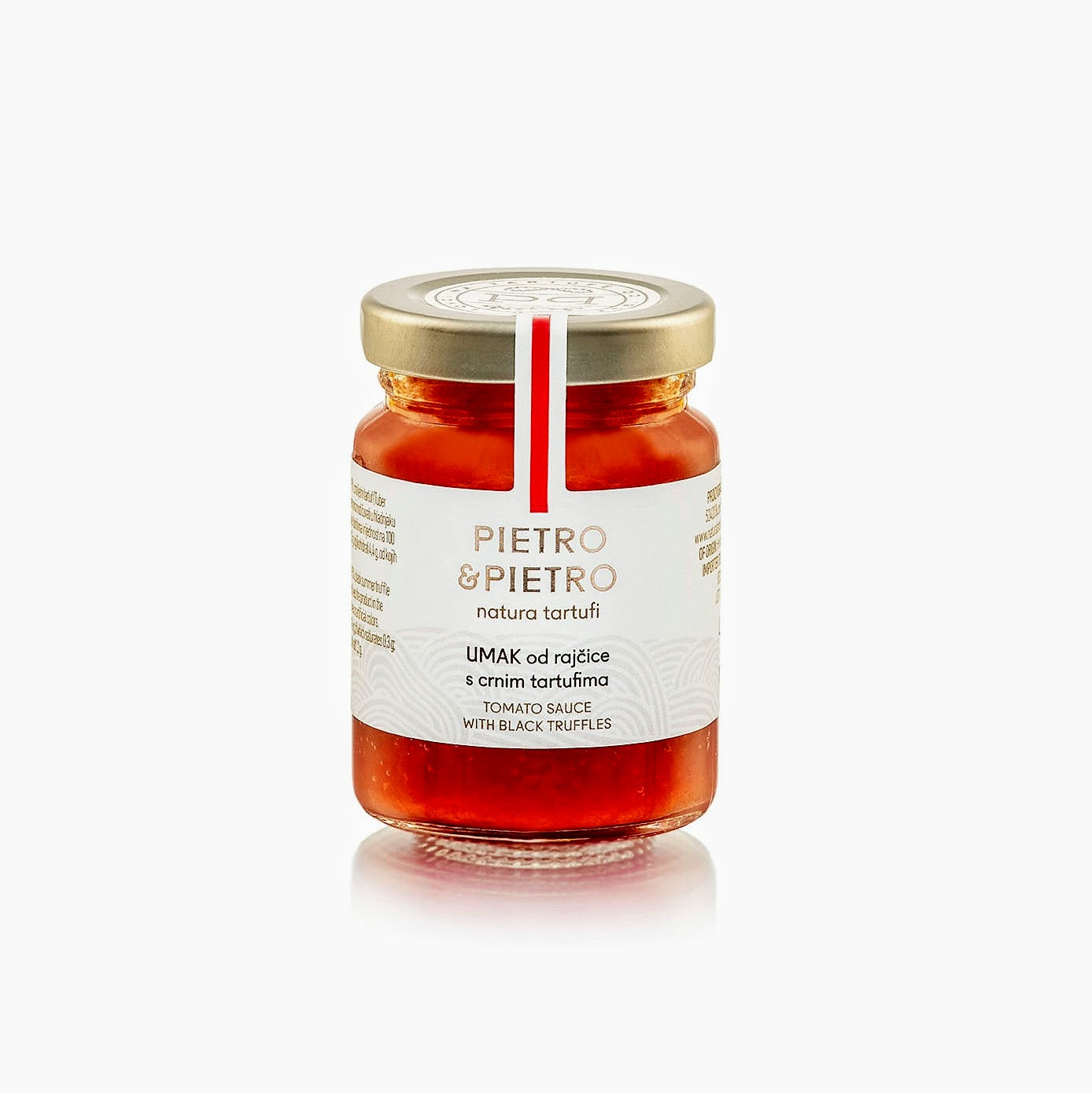 Tomato Sauce with Black Truffle (80g)
Pure, Simple, Locally Sourced and High-Quality Ingredients.  Try this lovingly prepared sauce by my family for yours ♥ Made from sweet and juicy sun-kissed Istrian tomatoes with only the best wild and top-grade black truffles from the surrounding forests.  
In a pinch? Simply heat this versatile sauce for an elevated pizza-based or use as a spread for roasted/grilled root vegetables and breaded meats.  You can also add to a tomato, minestrone or gazpacho, shrimp cocktail sauces, or Caesar and Bloody Mary cocktails.  I raise my glass to that!  Check out our Black Truffle Shakshuka Recipe  for an elevated brunch idea. 
INGREDIENTS:  tomato sauce 93%, black summer truffle, (Tuber Aestivum, Vitt.) 1%, sunflower oil, aroma, spices. Once opened, keep the product in the refrigerator and consume it within 10 days. Does not contain preservatives or artificial colours. Average nutritional value for 100 g of the product: energy 174 kJ / 42 kcal; fat 1,6 g, of which saturates 0,3 g; carbohydrates 4,4 g, of which sugars 3,6 g; fibres 2,6 g; protein 1,1 g and salt 1,2 g. 80g – serves 6-8 people.  
Add this elegant preserve to your gifting experience.
CORPORATE/EVENT GIFTING SHIP across NORTH AMERICA:  We are specialists in creating and fulfilling BRANDED & BESPOKE Gourmet Gifts with access to a full catalouge of the finest and exclusive fine foods, wines, spirits, kitchen products, apparel  and so much more.   We have 2 fulfillments centres  (Toronto, Canada & Georgia, USA) to accomodate large volume orders in a timely and cost effective manner. 
Please contact us at info@root44.ca for more information.