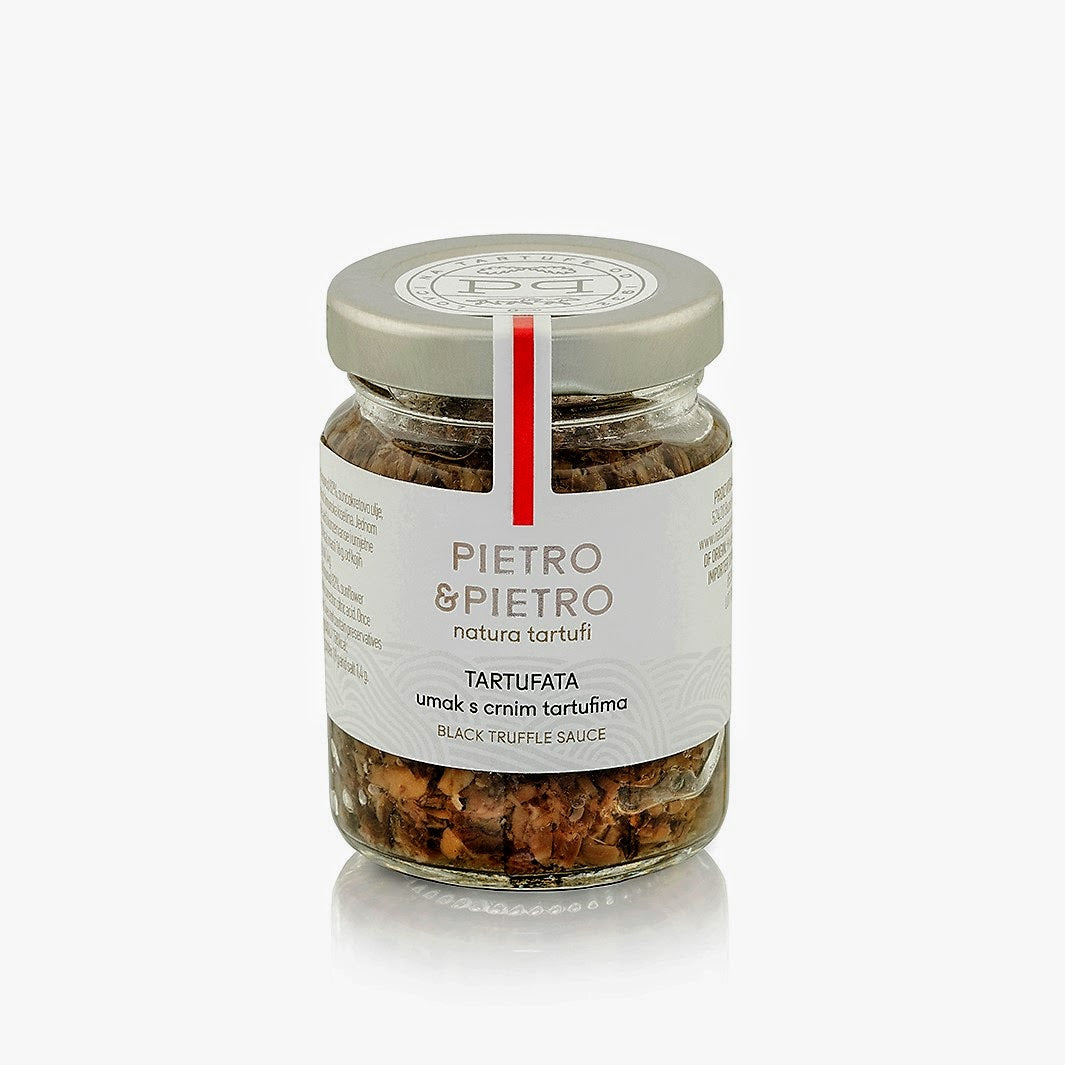 Tartufata Black Truffle Sauce (80g)
Pure, Simple, Locally Sourced and High-Quality Ingredients.  Try this lovingly prepared sauce by my family for yours ♥ Made from a careful selection of local champignon mushrooms and the best wild and top-grade black truffles from the surrounding forests.
The best "FIRST" product to explore when cooking with truffles is Tartufata.  Its taste profile is truly decadent and yet not overpowering, allowing even the pickiest eaters to enjoy it.  However, when it comes to selecting Tartufata, there is a wide range of additives and ingredients in many products, thus affecting the taste.  Select a top-quality product such as ours to make your experience truly satisfying and authentic.   
Tartufata is a very versatile application in many recipes.  Simply add it as a finishing touch to butter, tomato, or cream-based sauces.  It serves as a rich and delicious spread on warmed crostini, cheeses, and cured meats.  I consider it an essential product in my pantry!  Please check out my Signature Recipe here.
INGREDIENTS: mushrooms (Agaricus Bosporus) 82%, sunflower oil, black summer truffle (Tuber Aestivum, Vitt.) 3%, condiments, flavouring, acidity regulator: citric acid. Once opened, keep the product in the fridge and consume it within 10 days. No preservatives, no artificial colouring. Nutritional value per 100g of product: energy 648kJ / 158kcal; fat 16g, saturated fat 1.6g; carbohydrates 0.5g, sugar 0g; protein 1.9g and sodium 1.4g.
Add this elegant preserve to your gifting experience.
CORPORATE/EVENT GIFTING SHIP across NORTH AMERICA:  We are specialists in creating and fulfilling BRANDED & BESPOKE Gourmet Gifts with access to a full catalouge of the finest and exclusive fine foods, wines, spirits, kitchen products, apparel  and so much more.   We have 2 fulfillments centres  (Toronto, Canada & Georgia, USA) to accomodate large volume orders in a timely and cost effective manner. 
Please contact us at info@root44.ca for more information.