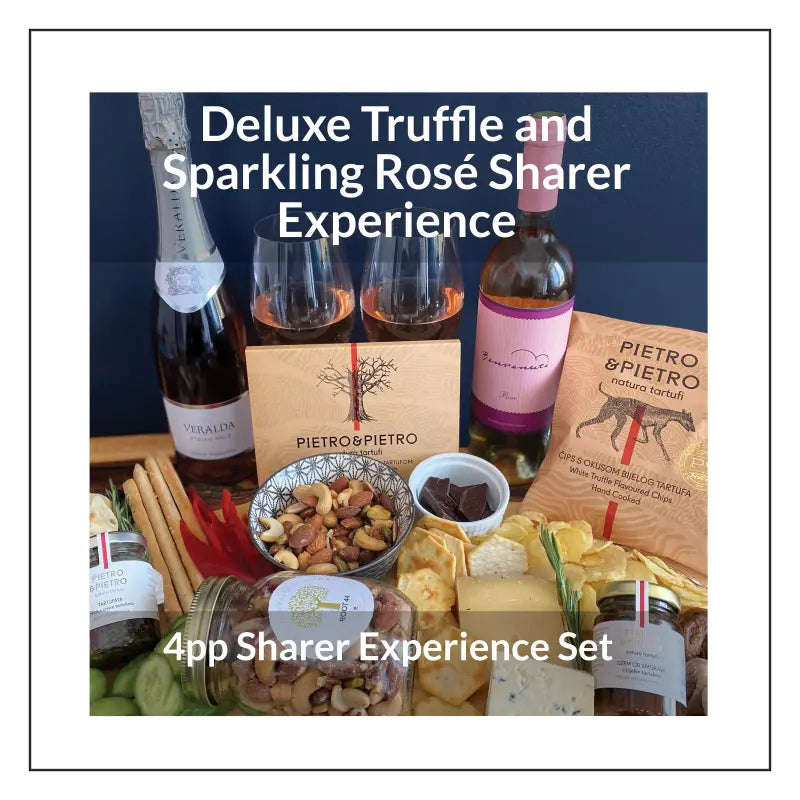 Deluxe Truffle and Sparkling Rosé Sharer Experience
Exquisite Entertaining with a Truffle-Themed Charcuterie/Cheese Board with Wine Set
ROOT44 in collaboration with Croatia Unpacked have created a delightful, limited edition Deluxe Sharer experience set.  We invite you to discover true culinary joy as you entertain with family, friends, colleagues, and clients.   
Our Deluxe Sharer Experience set includes:
1 (750 mL) bottle of perfectly paired dry sparkling rosé wine from a highly respected and leading Croatian winemaker
1 jar (80g) of the Finest Pietro & Pietro Tartufata 
1 jar (120g) of the Finest Pietro & Pietro White Truffle Fig Jam
1 jar (60g) of the Finest Pietro & Pietro Dark Chocolate with White Truffle 
1 bag (50g) of the Finest Pietro & Pietro White Truffle Chips
1 jar (450g) of the Finest ROOT44 special edition truffle seasoned nuts
No-Fuss Truffle Inspiration insert card for preparing your easy and elegant truffle-themed sharing platter
Presented in a beautiful sustainable wooden wine box
Enjoy the decadent escape to famed truffle forests and vineyards of Istria, Croatia with this exquisite collection of truffle spreads and tasty gourmet snacks with a refreshing bottle of sparkling rosé wine.  Your truffle-themed charcuterie and cheese board with a perfectly paired wine will win over your company and be a deliciously elevated and an entertaining delight!  
Shipping available across Ontario.  
Looking for Corporate Gifting?  Please contact us directly.  We have optional inclusions and branding opportunties.   Email:  wanda@root44.ca
This gift set is brought to you in partnership with Croatia Unpacked - where the finest and award-winning Croatian wines can be found.  Please check out their lovely wine and truffle gift selections at www.croatiaunpacked.com