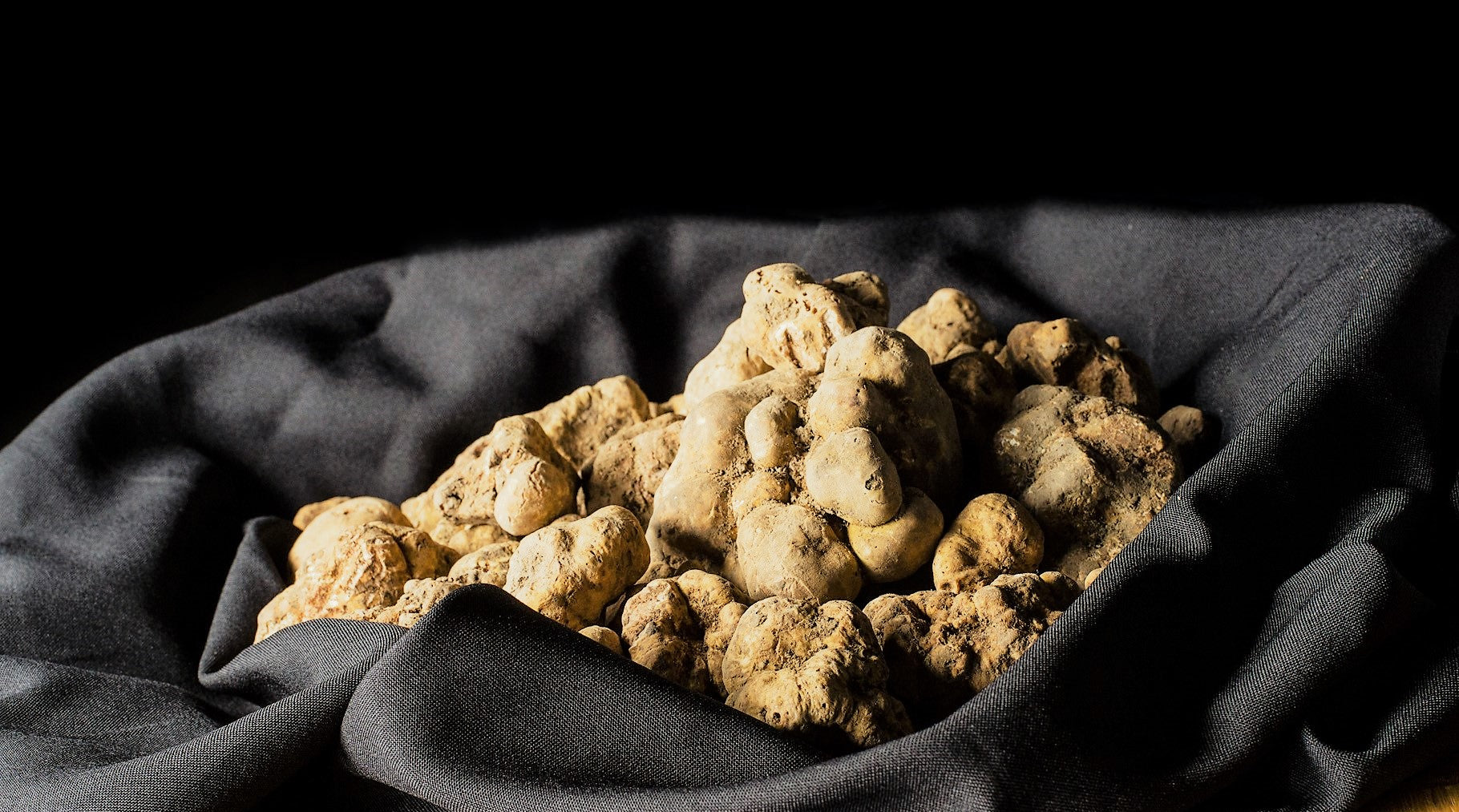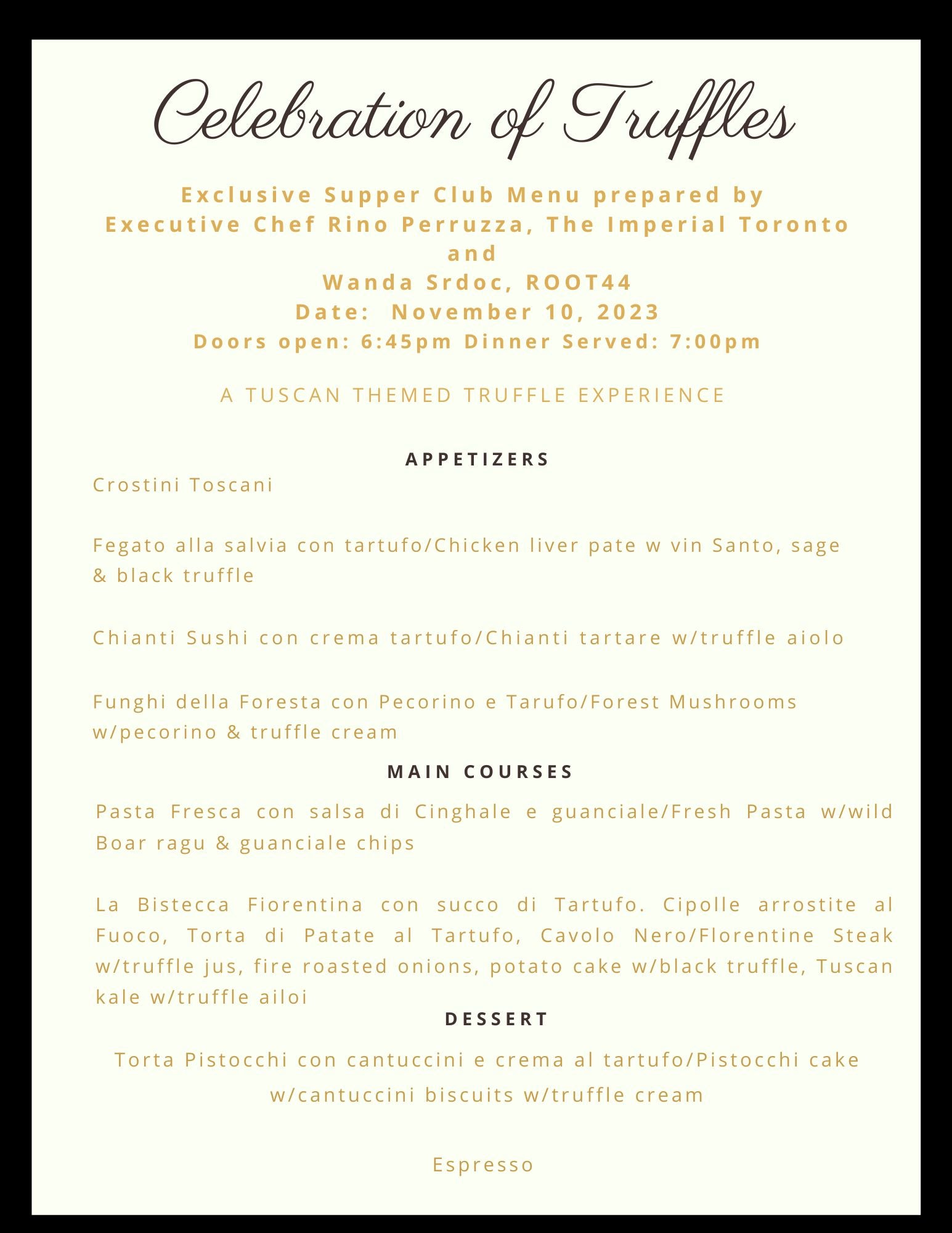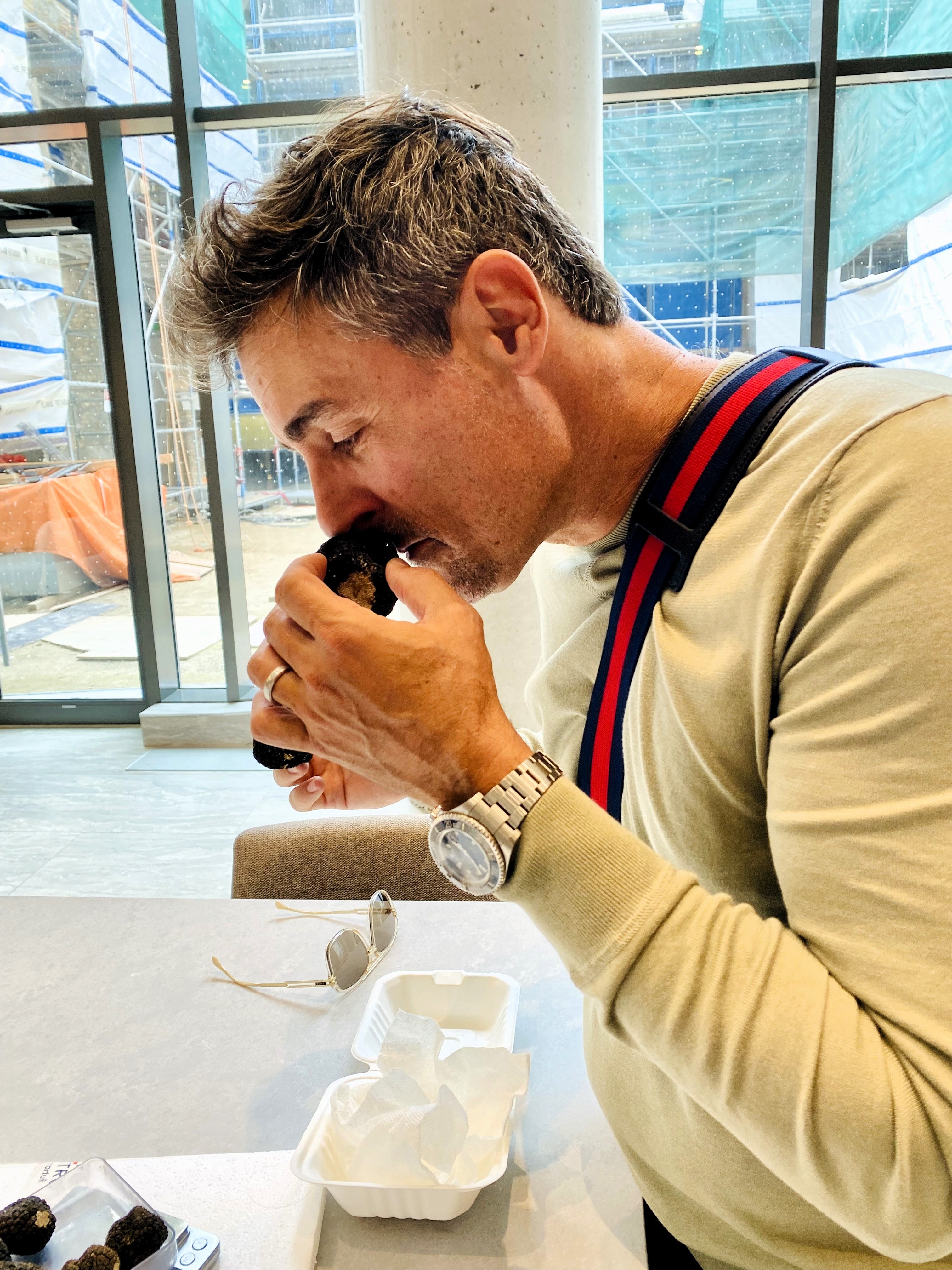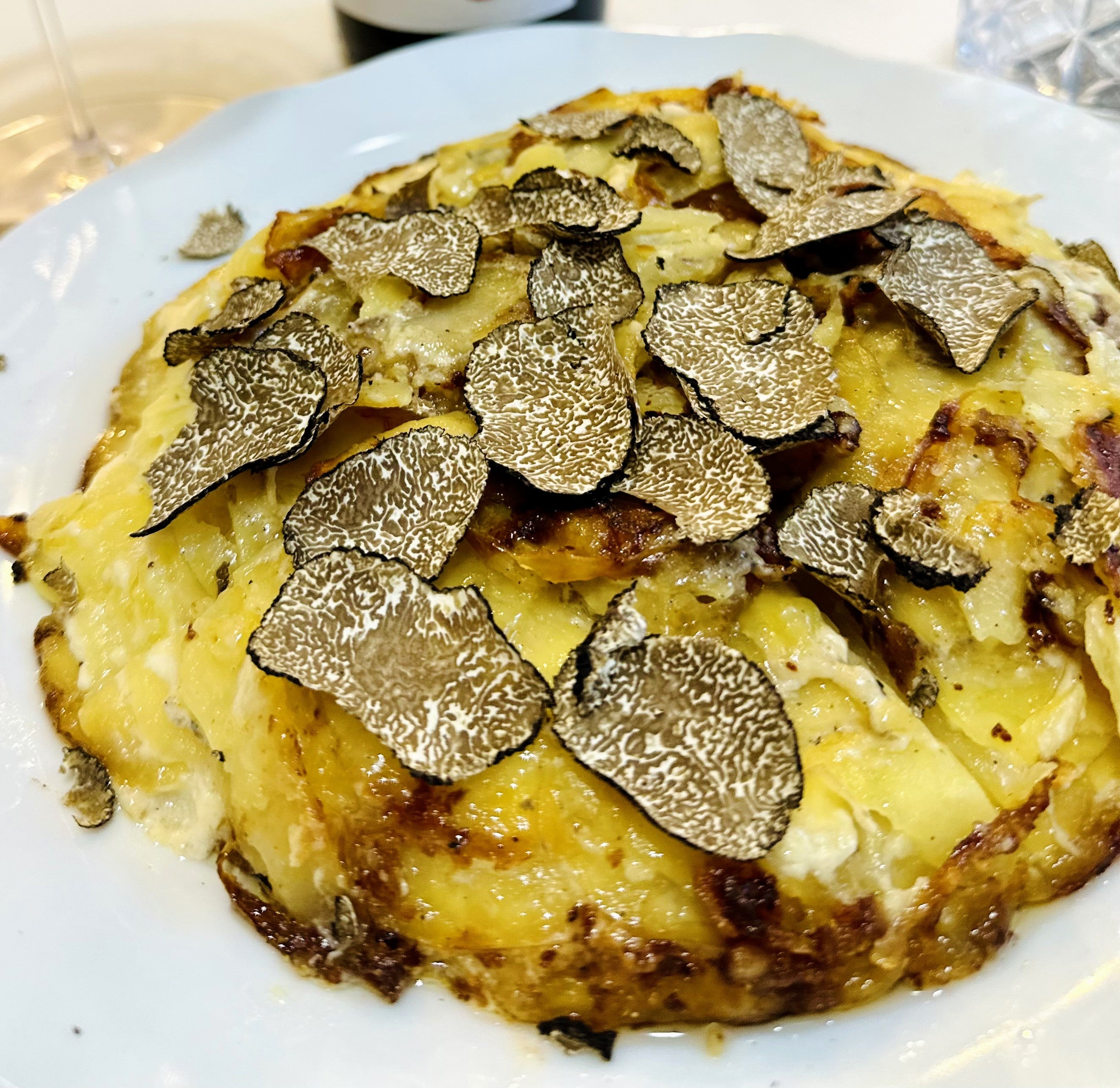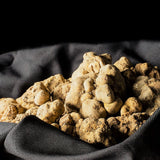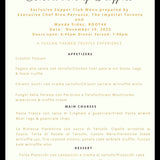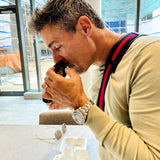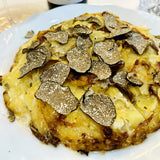 PRIVATE TRUFFLE Supper Club EVENT- A Celebration of TRUFFLES - Nov 10th
CELEBRATION OF TRUFFLES - Nov 10, 2023   
We have ADDED Nov 10th as one additional evening of Truffle Celebration due to our Nov 9th evening quickly selling out. We look forward to sharing an exceptional culinary evening.  If you have not yet been to one of these decadent trufffle supper club dinners, imagine them as the Perfect Concert for your Belly:)
We celebrate the best of the White and Autumn Black Truffle season with highlight dishes showcasing the finest of them all - freshly flown in White Truffles.  Please join us at an exclusive private BYOB Supper Club EVENT located in the heart of Toronto's College St. West - Dufferin Grove neighbourhood.  You will be welcomed by Wanda Srdoc and to her newest supper club concept.  Her mission is to create well-valued unforgettable culinary experiences and this event will be no exception. Be prepared for an elevated multi-course Tuscan themed truffle feast created by her talented culinary team with Rino Perruzza at the helm.  With decades honing his skills in Rome and Tuscany, Rino prepares Michelin worthy and mouth-watering dishes simply because he knows no other way.  Rino is very charismatic and his passion for fine Italian cuisine is palpable.  He loves to feed family and friends the very best of seasonal and local ingredients.
Outside of Rino's culinary talents, he is a visionary and founder behind THE IMPERIAL Toronto, the soon-to-be-open, luxury event space and fine dining establishment in Forest Hill.  The space is touted to be the most architecturally beautiful and innovative event space in Toronto. The exciting news for all of us is that I look forward to having many future supper club events at THE IMPERIAL in 2024.  For now, we are getting cozy and spoiled as we enjoy a decadent and fun evening at Barocco X Nino, a cool Italian bistro turned private event space on College St W.  It is with great pleasure and honour that I welcome you to A Celebration of Truffles on Nov 10th!
 Truly one of the best Toronto foodie events of the season...full of perfectly paired and delicious truffle dishes.  The atmosphere, food and energy in the room is outstanding.  Everyone is feasting, smiling, enjoying the great music and the company that surrounds them.  I keep returning with more and more friends who can't wait to return with more friends.   My advice is to book early as this event always sells out!
- Cristina Capatina
DETAILS
Location:  Barocco X Nino - 974 College St., Toronto, ON
Doors Open:  6:45pm   Event Closes: 10:30pm 
PLEASE NOTE:  We have limited seating - Please purchase your tickets early to ensure your spot at the best truffle celebration of the season.
This very popular and well-valued collaborative event with Rino Perruzza is a BYOB supper club concept – less formal (but dress code can be anything) and in some cases, family style elegant plates of fresh truffle dishes served on harvest tables to share with friends and guests close by. The energy is amazing – fun, laughter (possibly higher when drinks have been poured) and smiles all around.    
Ticket will include: 

Full Tuscan-Styled Truffle Feast Experience (See menu - picture insert):  Note: Vegetarian/Gluten-Free Choices offered - The main pasta course can be a vegetarian dish.  Please advise if you prefer a vegetarian plate at least 2 weeks in advance.   
BYOB (bring your favorite Wine/Champagne/Spirits) and we provide all the appropriate stemware. 
ACCESS to our exclusive Truffle marketplace for holiday gifts and fresh WHITE and BLACK truffles at SPECIAL event pricing. 
Wine Pairing recommendations: I would highly suggest wines which are regional to the area of truffles.  My personal favourites are found at Croatia Unpacked (www.croatiaunpacked.com). These are my dear friends and suppliers of the finest Istrian Wines. This is a region well known and highly regarded for their truffles and award-winning Istrian Wines. I love the wine from Kozlovic and Coronica. I always organize a tour and gourmet tasting at their wineries during my Bucket List Culinary Tours to Croatia.  Click image to learn more and purchase. 
BOOK EARLY 

This is a limited ticketed event – Guests served at 10pp-15pp per table(s), plus 4 bar seats.  Prices reflect the smaller capacity and substantial rise in the high-quality food ingredients and operating costs.  Seating can be grouped according to your preferences allowing seating arrangements up to 15pp of the same group. 
We cannot wait to see you there!